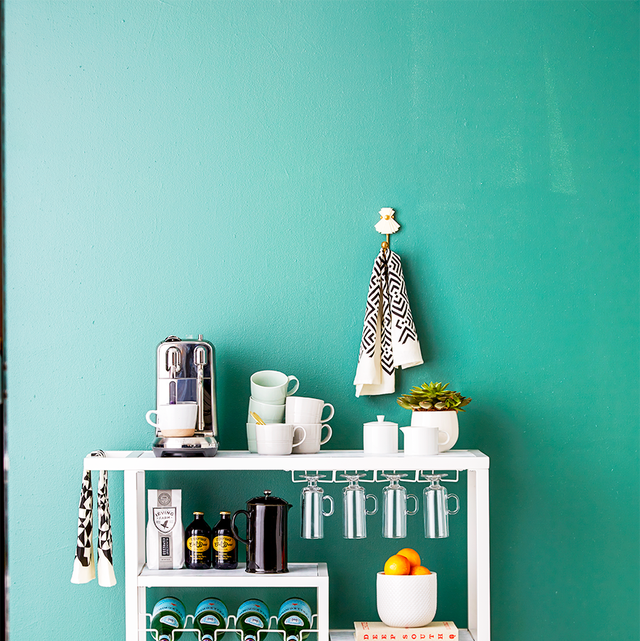 Mike Garten
A fresh cup of coffee never goes out of style — but cluttered cabinets full of K-Cups and unopened coffee bags certainly do. These party-ready coffee bar ideas help you streamline your morning routine, ultimately taking the chaos out of your daily caffeine boost. It's really simple: Just carve out a space in your home (think: empty kitchen cabinets, accessible countertops, or mobile bar carts) and fill it with everything you need to make a coffee shop-worthy drink. Even if you're short on space, these ideas show that even the smallest kitchen can make room for a coffee and tea station. While they're highly functional, these easy-to-DIY coffee bars are great accent pieces in homes of all styles, including farmhouse and modern interiors.
But if you're also prone to a mid-day or nighttime pick-me-up, then opt for a bar cart that you can roll from one room to the next or even, take it outdoors when the weather permits. That way nothing will get in between you and your true love: coffee.
Advertisement – Continue Reading Below
1 Space-Saving Coffee Bar
Save valuable counter space by fixing this DIY navy and copper display that allows you to hang up to 12 coffee mugs at one time. Plus, you can add more on top!
See more at Jen Woodhouse »
2 Day-to-Night Drinks Cart
Keep the drinks — caffeinated or otherwise — going from morning to night with this dual-purpose cart, which is big enough to store all the ingredients and accessories for morning brews and nightcaps.
3 White Waxed Coffee Bar
For a true trash-to-treasure DIY, spruce up a marble-topped buffet with a glossy finish to give it a more modern feel. Cover any imperfections with baskets, jars, and an assortment on monochromatic mugs.
See more at Bless'er House »
4 Well-Stocked Coffee Cabinet
5 Keurig Coffee Bar
To make sure you still have enough room around your machine to fix up a coffee to your liking, store K-Cups, coffee pods, and mugs directly on the wall.
See more at Dream Green DIY »
6 Modern Coffee Bar
Make sure your coffee station aligns with the rest of your home's aesthetic by incorporating geometric prints, faux greenery, and sleek canisters.
See more at Love Create Celebrate »
7 Mobile Coffee Cart
Roll a bar cart from room to room to keep the coffee, tea, and hot cocoa flowing. To make drinks party-ready, brew them ahead of time and stick them in easy-to-pour pitchers.
See more at Alice and Lois »
9 Customizable Coffee Cabinet
Make the most of the narrow cabinets in your kitchen by using them to store glass jars full of K-Cups, tea bags, and coffee beans.
See more at A Blissful Nest »
10 Coffee Bar Cart
Balance out the industrial look of this brass and wood cart by incorporating bright white accents, including an acrylic catchall tray.
See more at Fresh Mommy Blog »
11 Mutli-level Coffee Bar
Just because you're limited on counter space or drawers doesn't mean you can't have a coffee station in your kitchen. Instead, think vertical by hanging shelves of different shapes and sizes to perfectly fit mugs, coffee spoons, and other accessories.
See more at Making Manzanita »
12 Minimalist Coffee Cart
13 Rolling Coffee Cart
If you prefer making your morning brew with a pour-over and French press, then a mobile coffee cart is your best bet, especially since you don't have to worry about keeping it near an outlet.
See more at The Merrythought »
14 Tea and Coffee Cabinet
15 Repurposed Bar Cart
Keep the coffee maker and other essentials on the top shelf for easy reach. Keep any fragile items (think: mugs) on the lower shelf to lessen the impact.
See more at Liz Marie Blog »
This content is created and maintained by a third party, and imported onto this page to help users provide their email addresses. You may be able to find more information about this and similar content at piano.io
Advertisement – Continue Reading Below